Wow, I can't believe I just spent about 5 hours yesterday preparing the information to be handed to my accountant for income tax reporting. Though, I'm grateful that I had all the information I needed at my finger tips with the help of modern day technology — computer, internet, and spreadsheets!
I still managed to buy a couple of dividend stocks last week. Although we love juicy dividends, we don't restrict ourselves from not buying a dividend stock because it pays a below-market yield, as long as its total return potential is attractive. One dividend stock we just bought was OpenText (TSX:OTEX)(NASDAQ:OTEX).
OpenText: Business Overview
OpenText is a global company that provides enterprise information management ("EIM") services. Below is a snapshot of the tech company. It forecasts that its addressable market is growing 8% and it has a large customer base.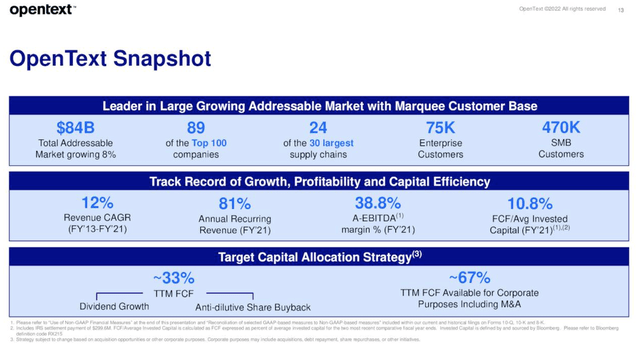 Read More