Today marks the first day of the Year of the Rat as we bid farewell to the Year of the Pig. Unfortunately, this supposed time of celebration clashes with the coronavirus outbreak catastrophe that originated from Wuhan, China.
The Lunar New Year in China is the world's largest annual migration of people, with hundreds of millions of travelers fanning out across the country and the world, and hundreds of billions of dollars spent on hotels, restaurants and shopping. (Source: New York Times)
The outbreak will undoubtedly negatively impact the already slowing Chinese economy, but it should only be temporary, if it is, as some experts believe, not as severe as the SARS virus that infected more than 8,000 people, caused 774 deaths reported across 17 countries, and devastated many in 2002-2003.
As of January 25, 1370 cases and 41 deaths were confirmed in China and 28 cases confirmed overseas including in the U.S., France, Australia, and multiple Asian countries: Japan, South Korea, Singapore, Malaysia, Thailand, Vietnam, and Nepal.
Although we expect the effect to be temporary on the economy, immediate effects are felt at airline- and tourism-related companies that have close ties with China. Here's Morningstar's general update on the situation on a growth company, Trip.com (TCOM) that we trade:
We expect the companies covered by Morningstar that will likely be affected the most by the coronavirus outbreak are airlines (China Southern, China Eastern, Air China, Cathay Pacific), airports (Beijing Capital International Airport), and tourism (Trip.com and Macau gaming companies SJM Holdings, Wynn Macau, Galaxy Entertainment, Sands China, Melco Resorts and MGM China).

If any staff or customers are infected with the coronavirus; the offices, airports, and casinos could be quarantined or closed. Macau's chief executive did not rule out the possibility of closing casinos, should the spread of coronavirus worsen.

Given we believe that SARS did not have a long-term effect on our coverage of companies' financials in the past, we maintain our fair value estimates for these companies. We believe the coronavirus outbreak is likely to be a one-off short-term risk. Trip.com, Melco Resorts, MGM China, Wynn Macau are undervalued in our view.
In the last week, not surprisingly, Chinese stocks pulled back, including Alibaba (BABA), Tencent (TCEHY), Baidu (BIDU), and Baozun (BZUN). Obviously, Trip.com saw the biggest hit.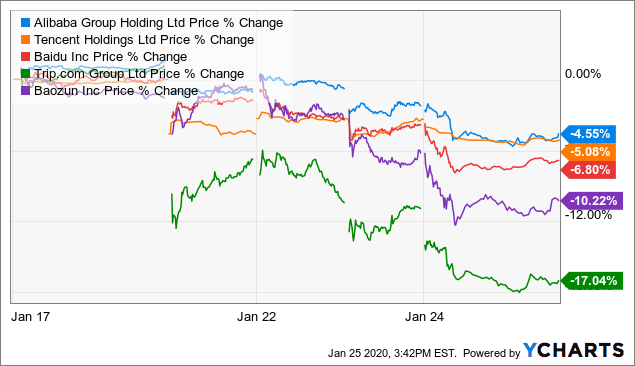 We managed to get out of Trip.com with a small gain before the coronavirus breakout worsened. Just to be clear, we view Alibaba and Tencent as core holdings, while we take trading opportunities in Trip.com, Baozun, and Baidu.
Likely More Downside Coming
A vaccine for the coronavirus can be ready for human testing as soon as in about 16 weeks or 4 months. So, there's no need to rush out to buy these stocks.
After reviewing valuations and technical charts, we think initial buy targets on the stocks could be:
BABA: $200
TCEHY: $45
BIDU: $130 (target reached!)
BZUN: $33 (target reached!)
TCOM: $32 (target reached!)
The key thing is to have at least a three-year investment time frame for these investments to play out. And for Alibaba and Tencent, we intend to hold for a long, long time and add to the positions opportunistically.
If you like what you've just read, consider subscribing via the "Subscribe Here" form at the top right so that you will receive an email notification when I publish a new article.
Disclosure: As of writing, we're long BABA, TCEHY, BIDU, and BZUN.
Disclaimer: I am not a certified financial advisor. This article is for educational purposes, so consult a financial advisor and or tax professional if necessary before making any investment decisions.
Get Exclusive Articles from me on Seeking Alpha
Access my portfolio of high-quality U.S. and Canadian dividend stocks.
Real-time updates of when I buy or sell from this portfolio.
Get best ideas of the top 3 dividend stocks from my watchlist. Updated each month.
Learn More