Summary
Restaurant Brands, Nutrien, and Simon Property are undervalued.
They offer decent yields of about 3-6% and long-term total returns potential that'd beat the market.
Returns will come from dividends, growing profitability, and valuation expansion over the long run.
Are you looking for dividend stocks to generate some nice passive income and market-beating long-term returns? Let's get some insight from Peter Lynch. 
Are you looking for dividend stocks to generate some nice passive income and market-beating long-term returns? Let's get some insight from Peter Lynch.
He's the incredible mutual fund manager who returned about 29% per year for his investors between 1977 and 1990 — essentially, transforming a $10,000 investment into about $280,000 over 13 years.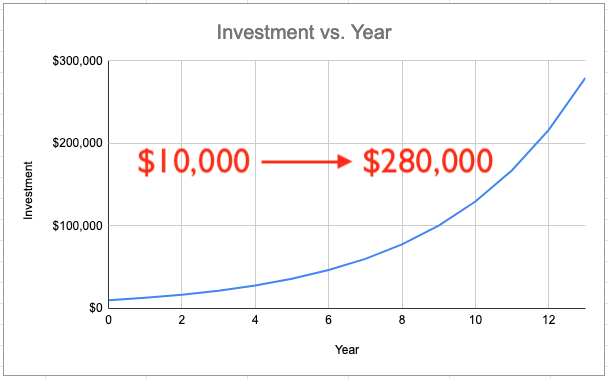 Source: Author
Lynch is also the author of The New York Times bestseller, One Up on Wall Street.
One of his famous quotes is
Invest in what you know.
So, what do we know? We come into contact with many companies every day. For example, in the past week, you might have gotten a quick bite at Burger King, Tim Hortons, or Popeyes Louisiana Kitchen and notice that the quick-service restaurant was buzzing with people.
This triggers you to do more research and realize that these franchises are actually all under the same company, Restaurant Brands (TSX:QSR)(NYSE:QSR).
Restaurant Brands
Recent Price: US$63
Recent Yield: 3.1%
Market Cap: US$28.6 billion
Last Dividend Increase: 11%
Just because a restaurant is full of people doesn't mean it's making money. Let's do a quick dive into Restaurant Brands to see how it's doing.
At first glance, Restaurant Brands' debt levels may scare you. It has long-term debt of about $12 billion and is given an S&P credit rating of BB-, which indicates a speculative investment.
However, QSR is able to carry so much debt on its balance sheet because its cash flow generation is pretty stable and it's a capital-light business.

In the trailing 12 months, it generated US$1.4 billion of operating cash flow but CAPEX was only $65 million, leaving it with tonnes of free cash flow of which it paid out 66% for its dividend.
Over the next five years, it only has to repay about $321 million of debt, which is easily covered by its cash flow. About 97% of its debt is low-cost long-term debt with a current interest rate of less than 3.8%.
However, keep at the back of your mind that if interest rates were to rise, it would weigh on the stock.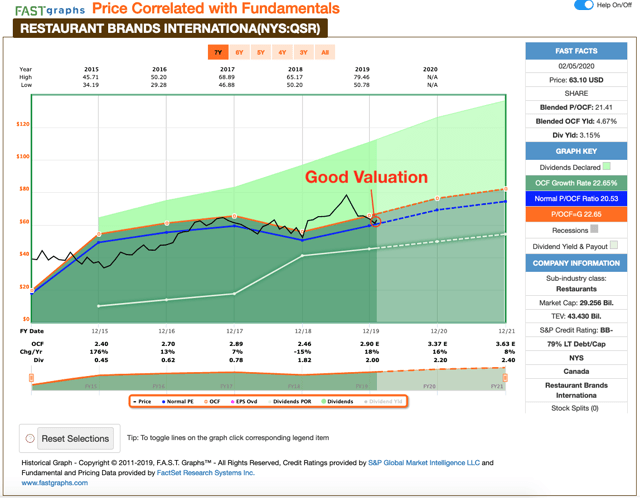 Restaurant Brands stock's valuation is good, as it has corrected about 21% from its 2019 high and is trading at roughly 21 times cash flow, while it has double-digit growth potential from its international expansion plan for its restaurant brands.
It currently offers a yield of about 3.3% that could increase as soon as next week when it reports its Q4 and 2019 results.
Nutrien
Recent Price: US$44
Recent Yield: 4%
Market Cap: US$24.6 billion
Last Dividend Increase: 8%
Feeding into Restaurant Brands' ingredients could be Nutrien's (TSX:NTR)(NYSE:NTR) fertilizers. Nutrien is the world's biggest provider of crop inputs and services. It produces potash and nitrogen and also has a pretty stable retail business.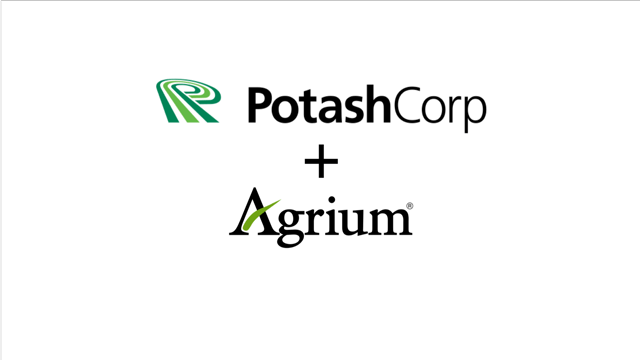 Nutrien was born from the merger of PotashCorp and Agrium in January 2018. It has the financial resources to pay a dividend while buying back its undervalued shares. For example, its share count is about 6.7% lower than it was a year ago.
Nutrien will continue to invest back heavily into the business. In the trailing 12 months, it used 52% of operating cash flow for CAPEX, but it still managed to generate more than $1.5 billion of free cash flow of which it paid out 65% for its dividend. It plans to maintain its investment-grade S&P credit rating of BBB.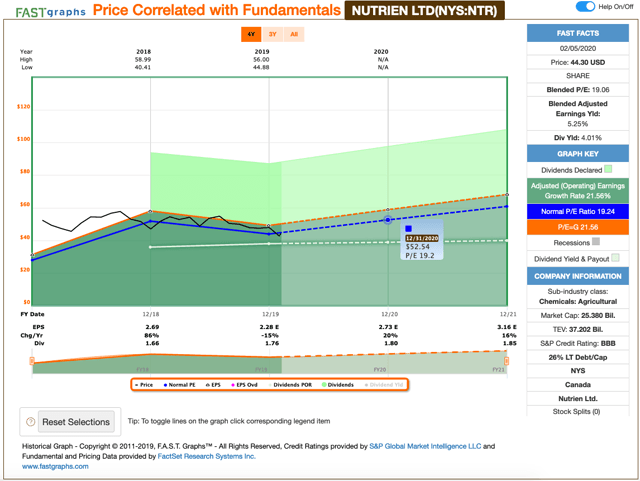 The undervalued stock has corrected about 18% in the last 12 months and is trading at about 18 times earnings with potential for double-digit growth. It currently provides a yield of about 4%.
Simon Property
Recent Price: US$140
Recent Yield: 6%
Market Cap: US$45 billion
Last Dividend Increase: 4.4%
Simon Property (NYSE:SPG) is another company that you may know. You may have visited a Burger King or Popeyes that was in one of its malls.
Unfortunately, Simon Property is in hot water! — at least that's what people would think by looking at its stock price action. The stock is trading 25% lower than a year ago and is in fact trading at an 8-year low.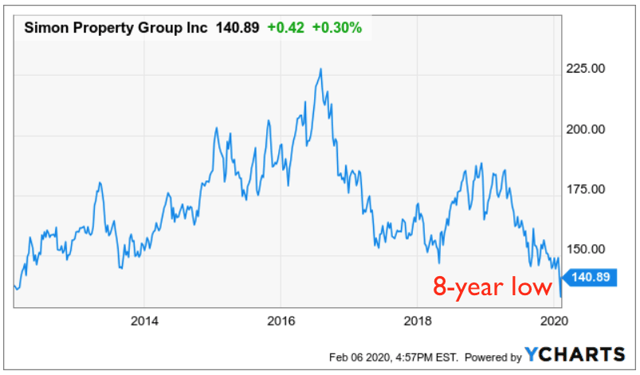 However, the U.S. retail REIT leader recently reported stable fundamentals for its 2019 results, despite the doom and gloom around the retail landscape.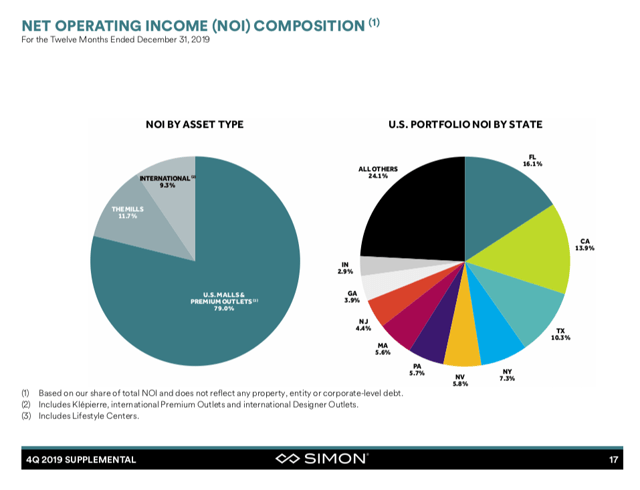 For its U.S. malls and premium outlets across 175 properties that make up the core of its portfolio (79% of its net operating income), Simon Property reported
retailer sales per square foot of $693, an increase of 4.8%,
occupancy of 95.1%,
base minimum rent per square foot of $54.59, and
leasing spread per square foot of $7.83, which implies the likelihood of getting higher rental income on new leases.

Additionally, its total net operating income ("NOI") growth was 1.7% for 2019. As Investopedia describes,
NOI equals all revenue from the propert[ies], minus all reasonably necessary operating expenses.
So, we want the NOI [growth] to be positive.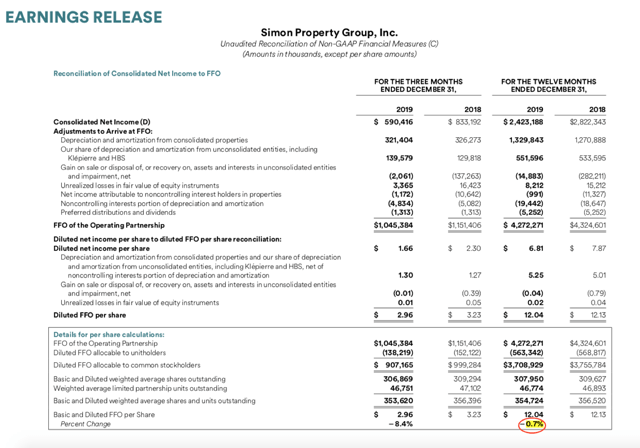 Simon Property's funds from operations ("FFO") per share are also holding steady, falling only marginally by 0.7% in 2019 against 2018. The 2019 FFO per share of $12.04 equates to a payout ratio of 70%, which will be sustainable for the REIT as long as its FFO per share remains steady.

Management expects growth to resume this year with midpoint guidance that's 2.3% higher.
Simon Property is awarded a high S&P credit rating of A. It ended 2019 with a strong fixed charge coverage ratio of 5.3 times. Additionally, it's been able to reduce its weighted average interest rate over the last few years thanks to historically low interest rates.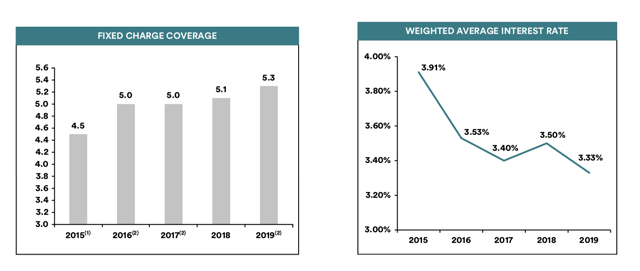 The stock is down because it's going through a period of slower growth partly due to development and redevelopment activities that are needed for long-term growth.

There's also the possibility that it'll take time to find new tenants for vacant spaces, which don't generate rental income until they're filled. However, thankfully it appears there's high demand for the REIT's spaces, as the recent leasing spread was an increase of 14.4%.
Thanks to the low stock price, Simon Property stock's dividend yield has been pushed up to about 6%, which is the highest it's been in the last 10 years.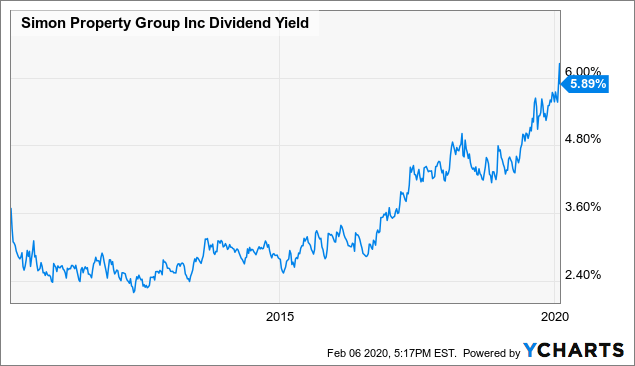 Investor Takeaway
If you invest in these three undervalued dividend stocks, you can get an average yield of about 4.4% for passive income and above-average total returns over the next few years.
Resources & References
YCharts, F.A.S.T. Graphs, Yahoo Finance, Value Line, Motley Fool, MarketWatch
Restaurant Brands, Nutrien, Simon Property,
Images in courtesy of Wikipedia and Pixabay artists
If you like what you've just read, consider subscribing via the "Subscribe Here" form at the top right so that you will receive an email notification when I publish a new article.
Disclosure: As of writing, we're long QSR, NTR, and SPG.
Disclaimer: I am not a certified financial advisor. This article is for educational purposes, so consult a financial advisor and or tax professional if necessary before making any investment decisions.
Get Exclusive Articles from me on Seeking Alpha
Access my portfolio of high-quality U.S. and Canadian dividend stocks.
Real-time updates of when I buy or sell from this portfolio.
Get best ideas of the top 3 dividend stocks from my watchlist. Updated each month.
Learn More