Summary
The real risk of stock investing is investors themselves.
It's very common that stocks fall temporarily. When they fall, you have to determine if it's a temporary or permanent fall.
If the stock of a great business falls temporarily, investors should take advantage by buying more shares.
Avoid buying bad stocks and bad companies. They're two different things. As an investor, you want to avoid bad companies as much as possible.
You'd want to wait for a bad stock (but a good business) to become a good stock to invest in.
Investors worry about their stocks falling and resulting in money losses. But the real risk is not a stock falling temporarily. The real risk of stock investing is when stocks fall and investors sell, causing permanent losses, while the stocks may only be falling temporarily.
There's also real risk when a stock falls permanently, doesn't come back up, or the business behind the stock goes bankrupt.
Another real risk is when investors get a dividend cut so that they get lower dividends than they anticipate.
The Real Risk of Stock Investing is Investors Themselves
There are two common scenarios when stocks fall temporarily. During such times, there are a lot of negative sentiment surrounding the affected stocks. If stockholders can't stomach the stock volatility and give in to fear or don't have a clear conviction on why they hold each of their stocks, they'll have trouble holding on to the shares.
Stocks Fall Temporarily in a Market Correction or Market Crash
A common scenario for when stocks fall temporarily is during a market correction or a market crash.
During the last financial crisis, from the peak of 2007 to the trough of 2008, Alphabet (NASDAQ:GOOGL)(NASDAQ:GOOG) stock fell about 60%, as shown in the chart below.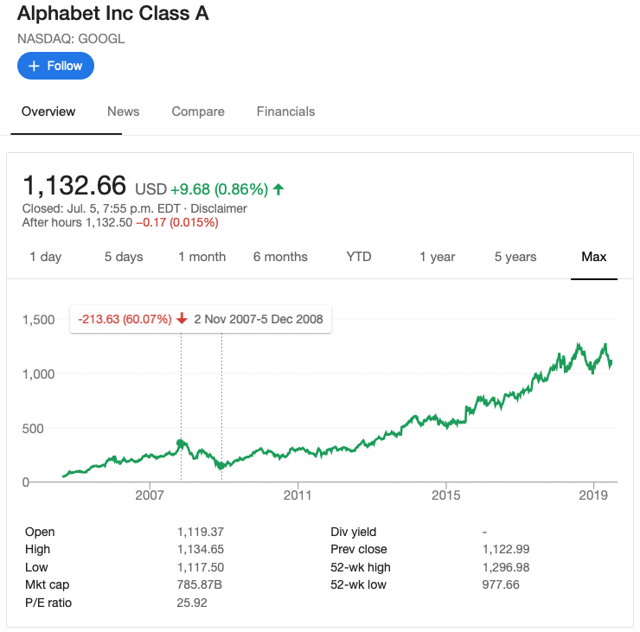 However, the company itself was still making tonnes of money. In fact, on a per-share basis, earnings increased by more than 40% in each of 2007 and 2008! So, the stock was an absolute steal when it fell a lot during the crisis. At the trough, it traded at a price-to-earnings ratio (P/E) of less than 16.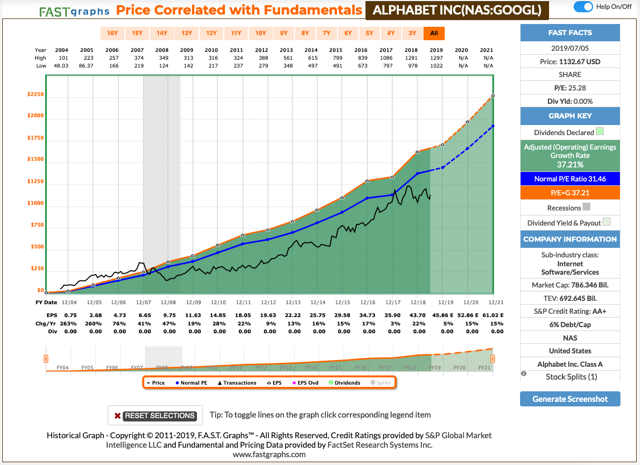 The stock fell 60% because there was an excessive negative sentiment in the stock market at the time. Since Alphabet was making so much profit, which was a trend that was set to continue, the stock price decline was temporary.
Indeed, buying the stock at the low led to nearly 700% gains from $142 to $1,132 per share, which equated to annualized returns of 21.8%!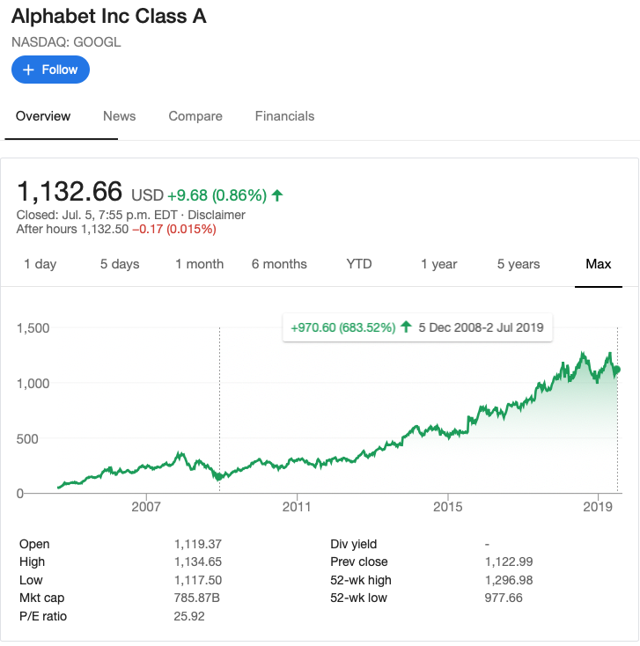 Even if you just bought Alphabet stock at a low, you could still be sitting on very impressive gains of 17.5% per year.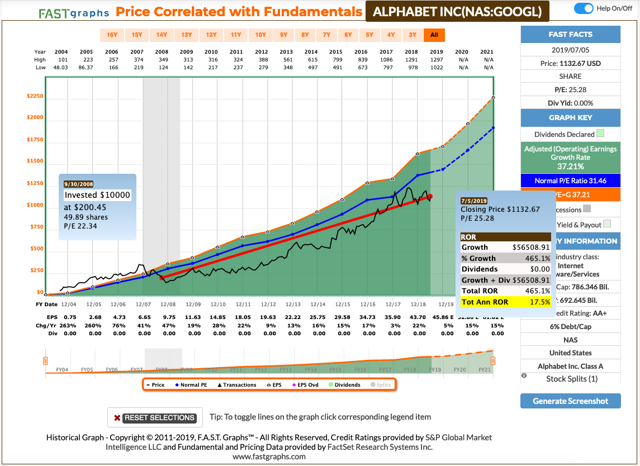 Quick Investor Takeaways
Here are a few key takeaways from the Alphabet example:
You need conviction to hold on to your stocks when they fall 50%, 60%, or more. A part of that comes from knowing the business and believing that the future is bright for the company.
You don't have to buy at the low. Just buying a quality business at a low will give very satisfactory returns.
You need to have cash to take advantage of market corrections.
Stocks Fall Temporarily when the Underlying Companies have Setbacks
Another common scenario for when a stock falls temporarily is when the underlying company is experiencing some temporary setbacks.
For example, when Enbridge (TSX:ENB)(NYSE:ENB) first announced its merger with Spectra Energy Corp. in September 2016, the stock climbed about 11% in a few days from the CAD$53 level to the CAD$59 level.
Fast forward to today, the stock trades at below CAD$48 per share. The company took on a lot of debt for the merger to happen. There was also some short-term dilution in the stock — the company's earnings and operating cash flow dipped meaningfully on a per-share basis in 2017.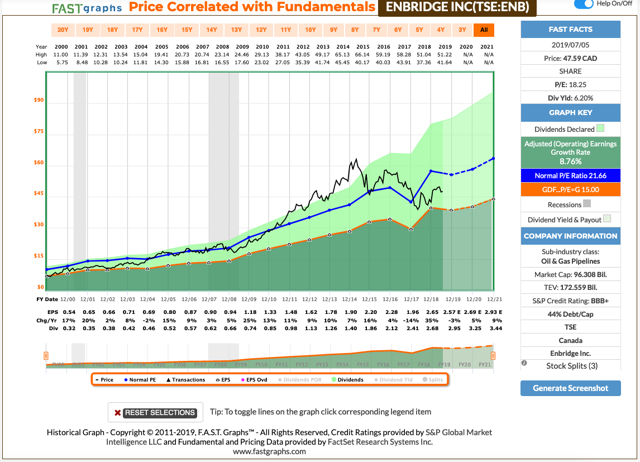 In the near term, there's a drag on the company due to the delays in the important Line 3 Replacement project, which makes up more than half of the company's medium-term capital program of CAD$16 billion, and ENB now expects the project to come into service in the second half of 2020. There's great investment in the project, but the project doesn't increase the company's cash flow until it completes. That's why the Line 3 Replacement project is weighing down on the stock for now.
Enbridge's payout ratio is forecasted to be roughly 66% of its distributable cash flow this year. So, there's good coverage for its dividend.
The chart below shows that Enbridge has increased its dividend per share in the long run (since before 1990!) even though there were little bumps here and there.
And Enbridge currently offers a yield that's at the high end of its historical yield range, which indicates the stock may be a great bargain today for income! One more thing — ENB aims to increase its dividend per share by about 10% next year.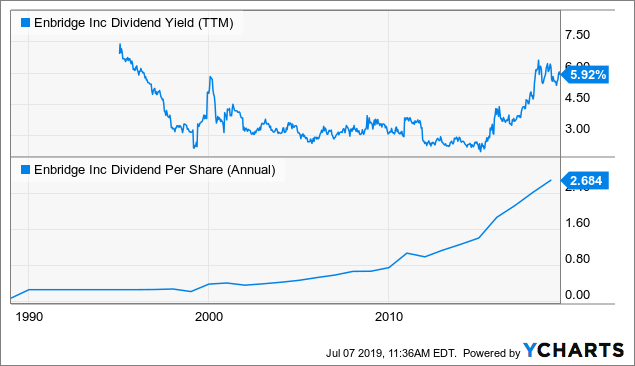 In summary, I believe there's a temporary setback on ENB stock. As the company gets closer and closer to the completion of the Line 3 Replacement project, the stock should head higher.
Quick Investor Takeaway
Investors have to determine if it's a temporary or permanent setback when their stock holdings fall. Gaining investing experience will help you with your decisions of buying more, holding, or selling when your holdings experience setbacks.
The Real Risk of Stock Investing is Choosing a Bad Company
Notably, I didn't say "choosing a bad stock" because a company can be good but it could be a bad stock at the moment. It's like during the Internet Bubble, Microsoft (NASDAQ:MSFT) traded at a P/E of more than 70! It was a good company that was still profitable and continue to make more money over time, but it was a bad stock because it was super expensive.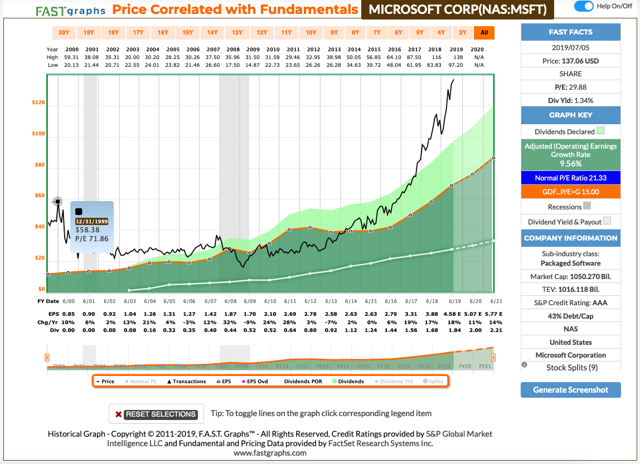 Investors who bought MSFT stock at the peak in 1999 needed to wait until 2016 (about 16 years!) to get back to breakeven.
There's real risk when you choose a bad company. The stocks of bad companies could end up being worth nothing in the worst case scenario when businesses file for bankruptcy. Debtholders get their money back first. What's left of the company after (usually not much) will go to stockholders.
In a slightly better scenario, the stock falls a lot, and it takes years to recover. Maxar Technologies (TSX:MAXR)(NYSE:MAXR) may be such a company. It can be a multi-bagger if it recovers. However, it's a super risky investment right now, and that's why I'm not risking my money in the stock.
The company made a number of acquisitions, increased its debt levels immensely, and the acquisitions simply weren't working out as management has planned.
At the end of the first quarter, MAXR's debt-to-equity (D/E) and debt-to-asset ratios were 7.8 and 0.88, respectively. Its cash-flow-to-debt ratio was less than 0.7%, which means there was very low coverage of the debt with its cash flow. The company is simply too overleveraged.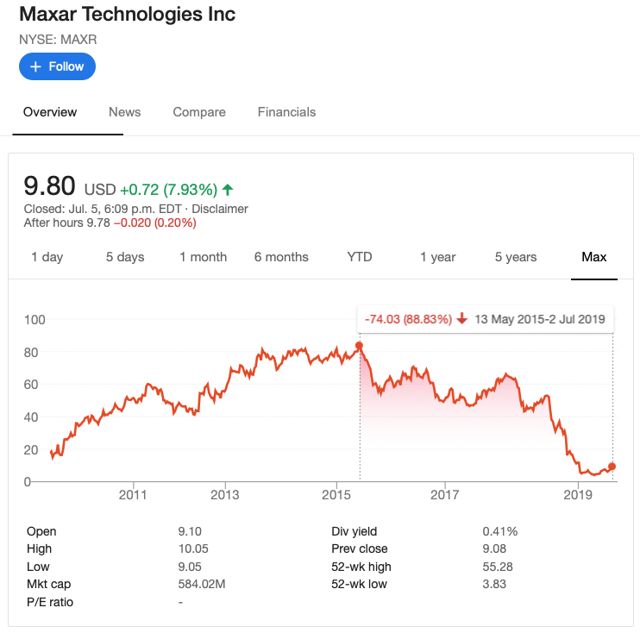 Quick Investor Takeaway
Investors should aim to invest in great businesses from different industries at a good valuation. By doing this, their overall portfolios should increase in value over time despite temporary or permanent setbacks from individual holdings.
Dividend Cuts are a Real Risk
If you bought a stock expecting its dividend to be safe, then it is a risk when it cuts its dividend.
For example, if you hold shares of Johnson & Johnson (NYSE:JNJ), you don't expect it to ever cut its dividend. The chart below shows that JNJ's earnings per share have been very stable and growing steadily for a long time with excellent coverage for its growing dividend.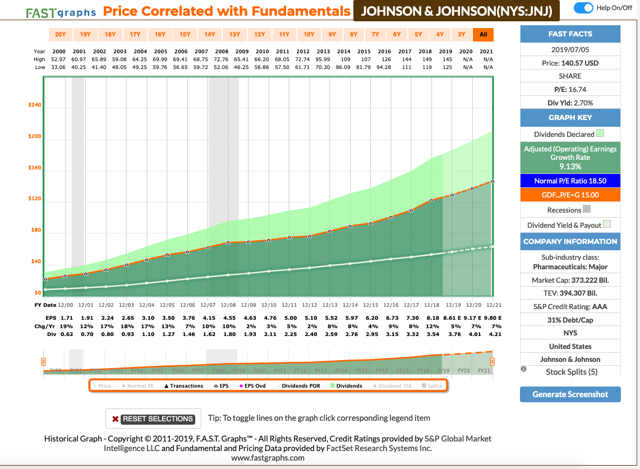 Of course, there are situations in which investors may buy a dividend stock with the primary goal of price appreciation and view the dividend as a bonus.
If you like what you've just read, consider subscribing via the "Subscribe Here" form at the top right so that you will receive an email notification when I publish a new article.
Disclosure: As of writing, we're long TSX:ENB, GOOG, and JNJ.
Disclaimer: I am not a certified financial advisor. This article is for educational purposes, so consult a financial advisor and or tax professional if necessary before making any investment decisions.
Get Exclusive Articles from me on Seeking Alpha
Access my portfolio of high-quality U.S. and Canadian dividend stocks.
Real-time updates of when I buy or sell from this portfolio.
Get best ideas of the top 3 dividend stocks from my watchlist. Updated each month.
Learn More