Long-term investors should welcome the market correction that we've been experiencing. The Canadian market is down by about 11% in the last 12 months, creating opportunities to buy quality stocks at cheaper valuations.
Here are two out of seven top Canadian dividend ideas I wrote about here in December. They're still excellent buys today. Both businesses actually report in U.S. dollars and trade on the U.S. market as well as on the TSX.
OpenText
1-year target of US$39-42 or upside of 20-30% in near term
Analyst consensus thinks OpenText (TSX:OTEX)(NASDAQ:OTEX) will increase its earnings per share ("EPS") by about 12% per year over the next 3-5 years. In the FAST Graphs below, using a target price-to-earnings ("P/E") multiple of 15, under normal market conditions, the stock can trade at a fairer price of about US$39 right now and about US$42 in a year.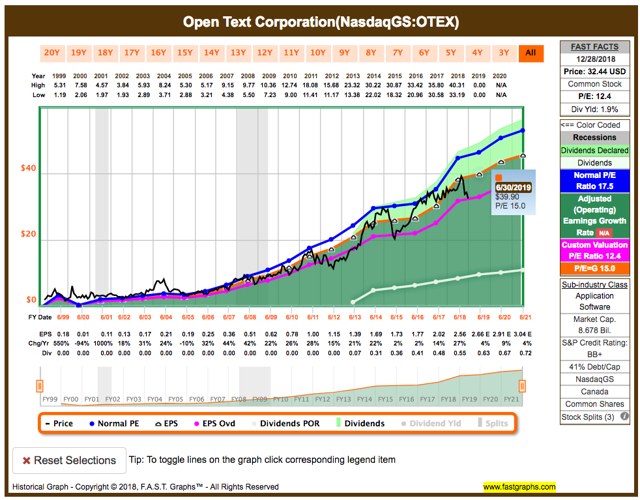 Source: FAST Graphs
The graph above also indicates that it's a good idea to buy on the dip, such as the one that the stock is experiencing now.
OpenText offers a safe yield of about 1.8% and has been increasing its dividend per share by about 15% per year. You can review my reasons for buying the tech stock.
OpenText reports in USD so that's why I'm reviewing the stock's valuation on the US exchange.
Whenever OTEX does trade at or above a P/E of 15, it's unlikely it'll stay there for long because of its mergers & acquisitions strategy, which could turn sour if the acquisitions aren't as rosy as management thought or if management paid too much for them.
What Analysts Think about OpenText
Value Line's Oct 12, 2018, report gave OTEX a neutral safety rating of 3 out of 5 and a company financial strength of B++. At the time, OTEX traded at $37.21 and Value Line had a 3-5 year target of US$45-65 on the stock for estimated annualized total returns of 7-16%.
Bank of Nova Scotia has a 1-year target of US$41 on the stock.
OTEX: Technically
Technically, OTEX has support at the US$31 and US$29 level.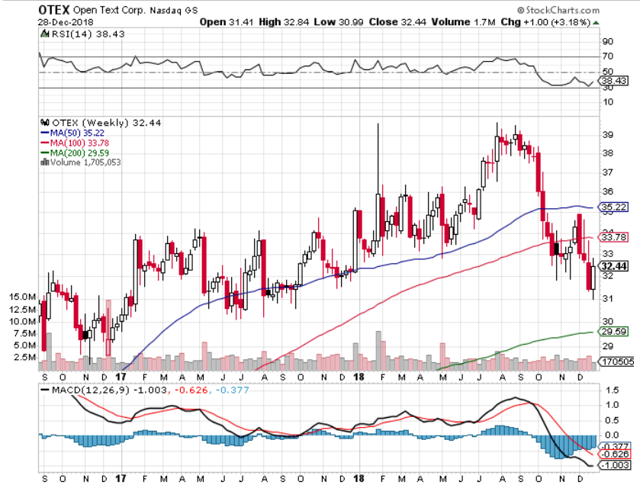 Source: Stockcharts – OTEX weekly chart
Brookfield Infrastructure
5.5% yield
1-year target of US$45.60 for almost 35% upside
Brookfield Infrastructure Partners LP. (TSX:BIP.UN)(NYSE:BIP) stock has done better than the other big-yield siblings: Brookfield Renewable Partners LP. (TSX:BEP.UN)(NYSE:BEP) and Brookfield Property Partners LP. (TSX:BPY.UN)(NASDAQ:BPY).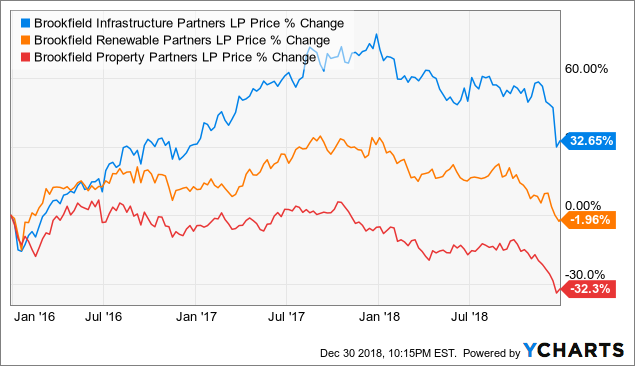 BIP has declined meaningfully since October but is still holding up the best among its high-yield siblings. So, that's why it's the top pick. (And I bought some BIP.UN last month.)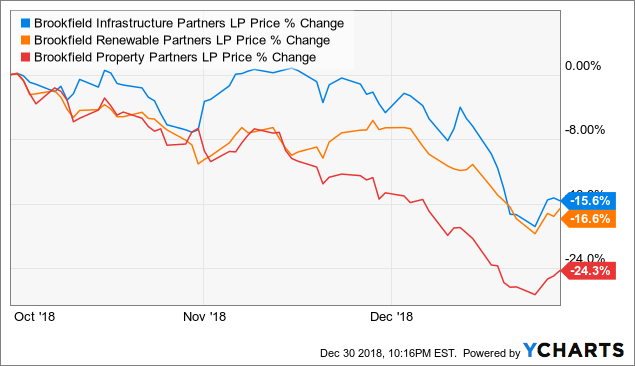 In all honesty, though, I'd consider adding to all these Brookfield names (i.e., BAM.A, BBU.UN, BIP.UN, BPY.UN, and BEP.UN) as they have come down in valuation in this market correction, esp. BPY.UN. That's why I'm reinvesting my dividends into these names where applicable.
Technically, BIP has some support at the US$31-33 per unit level.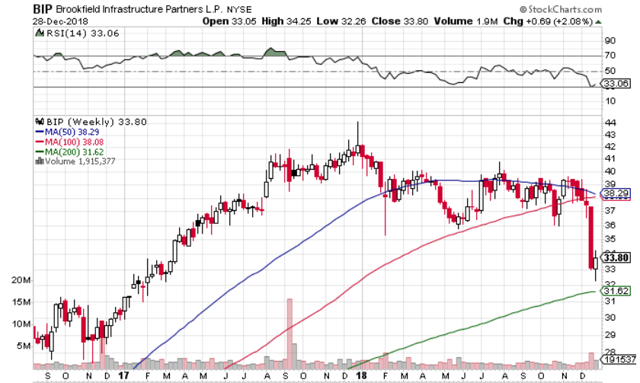 Source: Stockcharts
The quality stock has almost 35% near-term upside potential according to Reuters.
If you like what you've just read, consider subscribing via the "Subscribe Here" form at the top right so that you will receive an email notification when I publish a new article.
Disclosure: At the time of writing, the author owns OTEX, BIP.UN, BEP.UN, BPY.UN, BAM.A, and BBU.UN.
Disclaimer: I am not a certified financial advisor. This article is for educational purposes, so consult a financial advisor and or tax professional if necessary before making any investment decisions.
Get Exclusive Articles from me on Seeking Alpha
Access my portfolio of high-quality U.S. and Canadian dividend stocks.
Real-time updates of when I buy or sell from this portfolio.
Get best ideas of the top 3 dividend stocks from my watchlist. Updated each month.
Learn More