There are so many investing mistakes an investor can make. So, it's helpful to see the mistakes others have made and learn a lesson or a few.
One investing mistake I've made time and time again was booking profits on solid stocks. Some investors believe it's not wrong as long as you make money. I agree there's some truth in that but not the whole truth. (I'll elaborate at the end of the article.)
There was a number of reasons why I booked profits, and I'll illustrate with the examples below why I was wrong.
The Stock Got Too Expensive?!
I sold out of Royal Bank of Canada (TSX:RY)(NYSE:RY) in August 2016. At the time, I thought the top Canadian bank was close to fully valued and I expected to be able to buy the stock back at a lower price.
From my selling point, the stock went on to deliver total returns of about 12%. What's more? Fast forward three years, RY stock looks fairly valued to me right now trading at about 11.6 times earnings at about CAD$102 per share.
Lesson Learned: In your lifetime of holding quality stocks, for sure there must be times in which they become undervalued, fairly valued, or overvalued. If your goal is to build a solid portfolio and use stocks, such as Royal Bank, as stable foundation stocks, you should aim to buy when they're fairly to undervalued and hold for a long time.
I Ran Out of Patience
I sold out of Johnson & Johnson (NYSE:JNJ) in October 2012. I simply ran out of patience. The stock had been trading sideways since late 2008, which was right in the middle of the last recession.
During the time, J&J's earnings per share actually remained very stable and increasedevery year, though, in certain years, they only increased by 2-3%. Still, stable profitability during tough economic times indicates a sturdy and powerful business.
Soon after I sold, JNJ stock broke out, but I turned a blind eye on it. Since the point I sold, JNJ stock went on to deliver total returns that are just under 12%.
Lesson Learned: Trust your research and be patient. You can't control when stocks go up or down but you can control your investing mindset by treating stocks as businesses. J&J is obviously a relatively low-risk & low volatility quality business to own.
Company's Growth Slows
I sold out of McDonald's (NYSE:MCD) in June 2015. At the time, the stock traded at about 19.4 times earnings, and I recall the earnings growth estimates were 5%. So, the high multiple appeared unsustainable.
Boy, was I so very wrong! There was a change in management at McD. All day's breakfast was introduced and there was digitalization in the business for example with the self-order kiosks, which saved labour cost and improved efficiency. From the point I sold, the stock delivered total returns of under 24% per year!
I sold Microsoft (NASDAQ:MSFT) in December 2014 because it looked like earnings per share was crawling at the time (from fiscal 2012 to fiscal 2014) and forecasts (and actual growth) for fiscal 2015 to 2016 were also low. However, eventually, there was a shift to cloud and recurring revenue, and look at how the stock has flown! Since the point I sold, the stock went on to deliver total returns of 28% per year.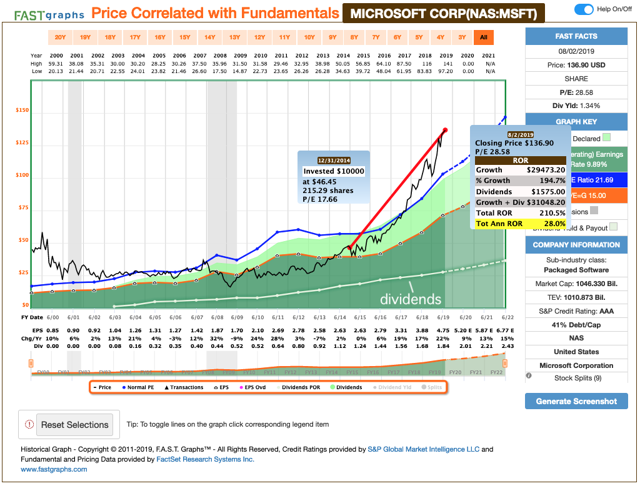 Source: F.A.S.T. Graphs with author annotation
Note also that Microsoft's dividend was well covered (the payout ratio was low with the earnings line much higher than the dividend line) and growing. From fiscal 2012 to 2016, MSFT's dividend growth was 15.8% per year, which was very good growth!
Lesson Learned: Don't count out your blue-chip stocks. Innovation can spur growth again, leading to exceptional gains in the future.
Bad Habits?!
I sold out of Starbucks (NASDAQ:SBUX) in October 2018. A part of the reason was that I got used to trading within the multi-year sideways range. Needless to say, the stock has shot up 65% since then.
Starbucks is a high-margin and innovative business. There wasn't a big reason to sell out of it at the time other than the worries about its growth in China.
Lesson Learned: Don't sell out of great businesses.
I Did Not Record My Actions
I didn't use to record my actions. I mean both the action of buying and selling and why I made those decisions. Additionally, I didn't record how much I had in each sector and quality stocks versus lower-risk stocks.
Below is the spreadsheet format that I use to track my buying, selling, and the end result of whether it was a gain or loss. If I earned dividends, I also tally it up and add to the returns on the right.

Source: Author
I find that recording what you do facilitates learning from the trades. In my view, certain stocks should be for short-term trading only. Others are worth to be core, long-term holdings in a diversified portfolio. Decide which it is before you make the trades. For stocks that you plan to trade in and out, make sure you have an exit plan — that is, how much to rise or fall before you would sell to book gains or realize your losses? And also if you'll sell your position entirely or separately at different price points.
I Finally Learned My Lesson?
Most recently, Walt Disney (NYSE:DIS) broke out and jumped more than 27% higher. I didn't sell a single share. (Applauds, please. :))
The majority of the appreciation had to do with its announcement and clear plan on its streaming service, Disney+, which is set to launch in the U.S. in November (charging cheap prices of US$6.99 a month and US$69.99 per year) and will be rolled out to other countries over the next two years, targeting Western Europe and Asia-Pacific countries by late 2019 and early 2020.
Disney is a king of content, having franchises including Marvel and Starwars. Here's a snapshot taken from the Disney+ preview site. It can monetize its franchises and characters across multiple platforms, including movies, merchandising (such as toys, T-shirts, and stationaries), and theme parks.

Source: Disney+
More Food for Thought
After booking profits, proceeds might go into bad investments. We always think the next stock may be better but that's not always the case.
Although the above examples were stocks that I shouldn't have sold, there were sales that I made correctly (at least until now), such as the one in IBM (NYSE:IBM) in August 2016.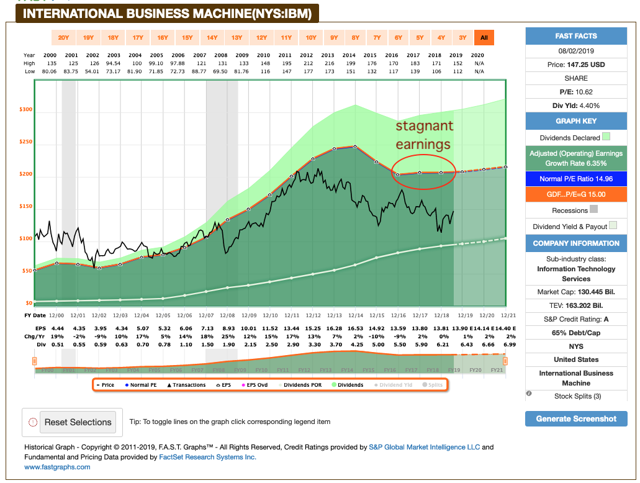 Source: F.A.S.T. Graphs with author annotation
The company's earnings remain stagnant even with share buybacks.
Of course, there's a chance that IBM could eventually turn things around, but why wait around when there are other technology companies that are doing much better?
To Sum It Up: The Final Lesson Learned
Each business must be looked at on a case-by-case basis; each investment decision must be made independently. Sometimes it might seem you're right in the short term (but wrong in the long term). Other times it might seem you're wrong in the short term (but right in the long term).
As you may notice, I've taken a position in J&J again. Some investors have profited from stocks and refused to buy back the same stock at a higher price. That's the wrong way to look at it because chances are, the underlying business is earning so much more, as is the case for J&J. So, of course, it should be trading at a higher price. Looking at the P/E ratio (instead of the price) would be a better way to go to value a stock.
Back to what I said at the beginning of the article: "Some investors believe it's not wrong as long as you make money. I agree there's some truth in that but not the whole truth."
If you took profit in a stock but the business ends up making much more money in the future and shooting much higher, then the decision may be an incorrect one.
As an allocation decision and a rule of the fund, some fund managers sell stocks after the stocks have become more than 5% of the portfolio, but individual investors have the option of not doing that. Winners tend to continue winning, right? However, if a stock becomes excessively overvalued compared to historic levels, it may be the correct action to take at least partial profits.
If you like what you've just read, consider subscribing via the "Subscribe Here" form at the top right so that you will receive an email notification when I publish a new article.
Disclosure: As of writing, we're long JNJ and DIS.
Disclaimer: I am not a certified financial advisor. This article is for educational purposes, so consult a financial advisor and or tax professional if necessary before making any investment decisions.
Get Exclusive Articles from me on Seeking Alpha
Access my portfolio of high-quality U.S. and Canadian dividend stocks.
Real-time updates of when I buy or sell from this portfolio.
Get best ideas of the top 3 dividend stocks from my watchlist. Updated each month.
Learn More