The market is in its nine-year bull run. I'll use the SPDR S&P 500 ETF Trust (NYSEARCA:SPY) and iShares S&P/TSX 60 Index Fund (TSX:XIU) as representations of the markets, respectively.
The annualized market returns have been about 9.5% for the U.S. market and about 7% for the Canadian market.
It's not surprising that the U.S. market has outperformed the Canadian market in the long run because the U.S. market is much more diversified, while the Canadian market is usually weighed down by commodity stocks, including mining companies and oil and gas producers.
All this means is that investors need to be extra careful in picking the right prices to buy those companies or the Canadian market.
Is the Market Really High?
The U.S. market trades at a price-to-earnings ratio of about 19.1, but that has been supported by earnings growth helped by the tax reform, which leads to lower effective taxes for U.S. companies. So, the market is actually reasonably valued.
The Canadian market tends to trade at a lower multiple than the U.S., but rightly so, because of the weights (most of the time) from commodity stocks.
Every 10 years or so, the market would give back some serious gains. I'm talking about corrections of at least 15-30%. It's not a matter of "if" but "when".
Should You Change Your Investing Strategy?
As primarily a value and dividend investor, I aim to buy undervalued, quality companies. Depending on how overvalued a stock gets and if I view the stock as a core holding or not, I may or may not sell or trim a holding when it becomes excessively valued.
Another strategy is rebalancing, for example, ensuring you have no more than 5% in any holding. This is what mutual funds do. They may review, say, every quarter to ensure no stock holding is more than 5% of the portfolio to limit company-specific risks.
At the end of the day, you need to be comfortable with the holdings you have and how much of your portfolio is allocated to each stock.
We have had a pretty long bull run. So, I think it's alright to trade a little bit more. For example, in March, I started a position in Charles Schwab (NYSE:SCHW) at ~$55 as the company seemed to be taking market share and growing at a rapid pace. However, my target buy price was closer to ~$51.
In May, the stock popped to +$59 and looking at the technical chart, I saw that it probably had little upside in the near term. So, I sold it for a +8% gain. Just recently, the stock reached my initial target buy price of ~$51. As a result, I picked up the stock again. This time, I'll likely stick with the shares, and add to it at opportune times.
Of course, not every trade works out well. Sometimes, you get out of the stock, and it keeps going higher, and you can't get back in. Therefore, if you really like a company and its prospects, just aim to buy the stock at a good valuation and then hold on.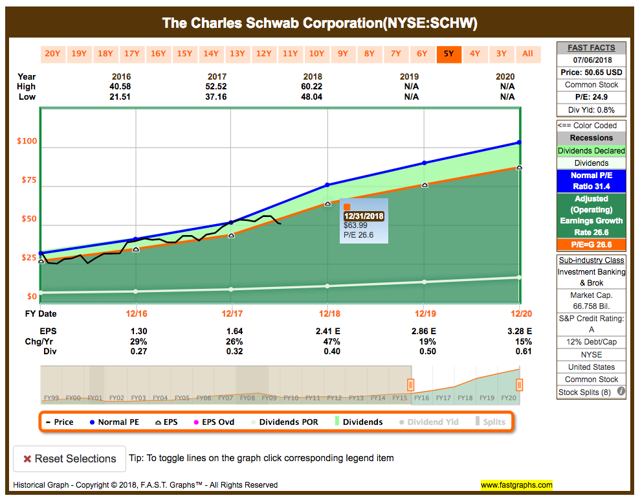 At ~$50.60 per share, Schwab trades at a blended P/E of 24.9, while it's estimated to grow its earnings per share by 24-28% per year for the next 3-5 years. So, Schwab is a great buy here. Notably, if the company doesn't achieve that growth rate (as high growth rates are hard to maintain), it'll experience underperformance in price gains.
Investor Takeaway
In a high market, on one hand, I'll most likely hold on to core stock holdings, especially if they offer dividend yields of +4% and are growing their dividends. On another hand, I'll trade non-core holdings or stocks that I didn't buy at the desired price targets.
In the long run, investors will probably be better to stay invested in quality businesses at reasonable or better yet, cheap, valuations.
If you like what you've just read, consider subscribing via the "Subscribe Here" form at the top right so that you will receive an email notification when I publish a new article.
Disclosure: At the time of writing, I'm long NYSE:SCHW.
Disclaimer: I am not a certified financial advisor. This article is for educational purposes, so consult a financial advisor and or tax professional if necessary before making any investment decisions.
Get Exclusive Articles from me on Seeking Alpha
Access my portfolio of high-quality U.S. and Canadian dividend stocks.
Real-time updates of when I buy or sell from this portfolio.
Get best ideas of the top 3 dividend stocks from my watchlist. Updated each month.
Learn More